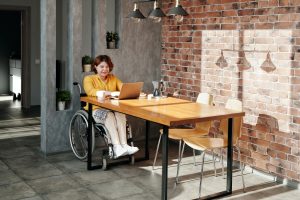 I offer in person and online appointments to suit you.  You can choose to mix and match how you would like your appointments so they work best for you and the demands of your busy, pressured life.  You receive private one to one sessions with me, either in person at the clinic of your choice or on Zoom.  We agree the appointments in advance so they are at the most convenient time and place for you.
However you decide to take your appointments, you'll have peace of mind knowing I'll be beside you every step of the way.
Online appointments are the easy and convenient option for many of my clients. It means I can see you at a time and place that suits you, wherever you live in the world.
Online therapy is ideal for people who have busy lives and don't have the time or energy to spend hours travelling to and from appointments. It is perfect for commuters, busy, working or stay-at-home parents, those who work full-time or unsociable hours.
If you live in a remote area or have disabilities, social anxiety or phobias that make social interaction difficult, online therapy means you can get the help you need from the comfort and security of your own home.
Research shows that online therapy is as effective as seeing your therapist in person1.
Many people prefer working online. They are relaxed when they start their session, as they haven't spent ages juggling complicated childcare arrangements or stuck in traffic, worrying if they're going to be late. They get the most from the sessions as they feel completely comfortable in their own home, or using a private room at work.
You don't need any special software or technical knowledge. I send you a link for you to click and then we're good to go. All you need is a computer, tablet or smartphone with a built in camera and microphone.
1 Hilty, D, Ferrer, D, Burke Parish, M, Johnston, B, Callahan, E and Yellowlees, The Effectiveness of Telemental Health: A 2013 Review, Telemedicine Journal and E-Health, 2013 Jun; 19(6): 444–454.